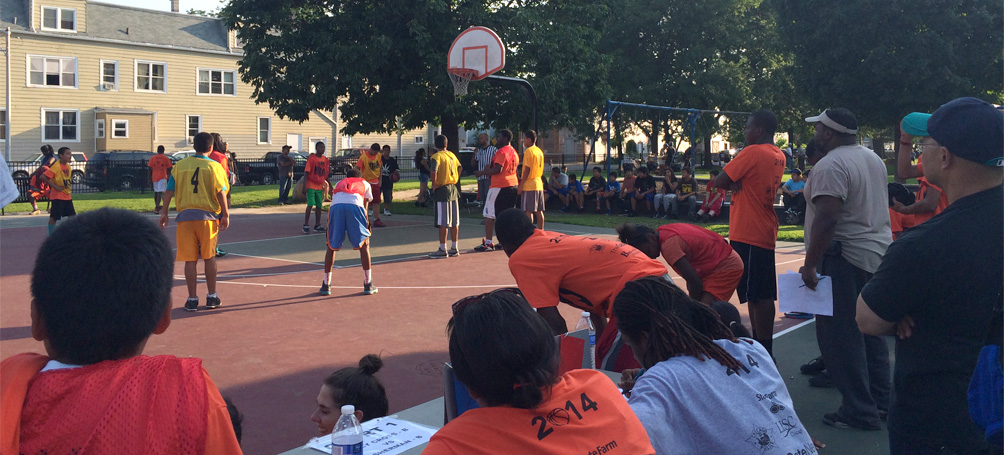 Since 2009, the Back of the Yards Neighborhood Council has partnered with the Chicago Police Department, the Chicago Park District and other community stakeholders to bring a 5 week basketball tournament to the youth of our community. The goal of Hoops in the Hood is to promote community-building activities and create a safe place for children to interact while teaching them life skills such as respect and teamwork. This program aims to help combat the increased crime rates that coincide with the warm weather by hosting safe, fun, and constructive community events. Ateach event, hot dogs, popcorn, water, snow cones, face painting and other activities such as face painting is provided for all to enjoy.
It's not all bad news in the 'hood.
While youth violence has captured the headlines this spring and summer, several communities this week celebrated a lack of it – in part thanks to the summer-long programs of sports, arts and education they've forged.
On Saturday, August 18th 2015, a broad city league celebrated its success at the 6th annual Hoops in the Hood Cross-City Tournament, in which youth from 12 communities compete in a city-wide contest. Begun nearly a decade ago in Pilsen as an anti-violence strategy, Hoops in the Hood (supported by LISC Chicago) has grown to a city-wide collaboration of 12 neighborhoods, serving hundreds of youth each year. Under program names like B-Ball on the Block, Hoops, and the Safe Summer Basketball League, each week during the summer residents shut down streets, set up portable hoops and invite neighbors to come out and cheer on the young players. Weekly street ball is also blended with community art projects and health awareness education.
In the face of growing calls from across the city for neighbors to take responsibility for their own safety, these Chicago communities are doing just that through Hoops in the Hood. By occupying blocks, kids and residents leave less physical space for gangs in their neighborhoods. With a shared, city-wide slogan of "Playing for Peace, Unity & Respect," and a zero-tolerance policy for arguing and fighting on the court, the leagues have enjoyed summer after summer of incident-free ball.
"Next to a block party, this is the most fundamental neighborhood engagement you can get," said Jaime deLeon of Enlace Chicago, who's been involved with Hoops in the Hood since 2006. "You can feel the tremendous sense of community. It's a beautiful feeling to see kids playing basketball on their own streets without any fear or worry. For at least a few hours, families own that block, and our hope is that the sense of ownership continues to build, so that everyone can take responsibility for keeping our community safe."
Participating organizations in the tournament were the Back of the Yards Neighborhood Council, www.bync.org; Breakthrough Urban Ministries, www.breakthrough.org (East Garfield Park); BUILD, www.buildchicago.org (Humboldt Park); Chicago Men in Action, www.connectnearnorth.org (Near North); The Community Builders, www.tcbinc.org (Quad Communities); Enlace Chicago www.enlacechicago.org and Beyond the Ball, www.beyondtheball.org (Little Village); Lawndale Christian Development Corp., www.lcdc.net (North Lawndale); the Near West Side Community Development Corp., www.nearwestsidecdc.org (West Haven); Neighborhood House and Claretian Associates, www.claretianassociates.org (South Chicago); North River Commission, www.northrivercommission.org (Albany Park); The Resurrection Project, www.resurrectionproject.org (Pilsen); and, Teamwork Englewood (www.teamworkenglewood.org).
The results of that tournament were as follows:
1st place: Kids and Kops
2nd place: Brighton Park
3rd place: Holy Cross
Other participating teams included St. Michael, Paulina Pride and Union Impact.
Benny the Bull visits Hoops in the Hood on 48th and Winchester
One local youth shared their thoughts: "It was great. Benny was hilarious! I can't believe he just walked into that house!"
On Friday, July 30th, 2009, Benny the Bull, the mascot who is known for his crazy antics, stopped by the BYNC's Hoops in the Hood event on 48th and Winchester. Benny lived up to his reputation by shooting t-shirts over 300 feet in the air with a cannon, entering people's homes (uninvited), shooting silly string at the players, and playing a little one-on-one basketball with one lucky youth.
For the second consecutive year, the Back of the Yards Neighborhood Council organized a traveling basketball tournament called "Hoops in the Hood". With funding from LISC (Local Initiatives Support Coalition), 7 agencies (Cornell Park, Saint Michael the Archangel Church, the 9th District Kids and Kops program, Davis Square Park, Columbia Acadmey, Chavez Multicultural Academy, and Holy Cross Parish) entered youth basketball squads in this program, aimed at deterring youth from gangs and drugs while promoting healthy lifestyles.
This program will help to combat increasing crime rates in the community by using activities in public spaces as crime deterrents. For this reason, rather than using park facilities to host the tournament, BYNC cooperates with block clubs, the 9th District Police Department, and local Ward offices to close a targeted block every Friday night between July 9th and August 6th, 2010. The program is designed to change local attitudes about community, bringing a sense of hope and progress to residents, while giving them the opportunity to organize and reclaim their streets.