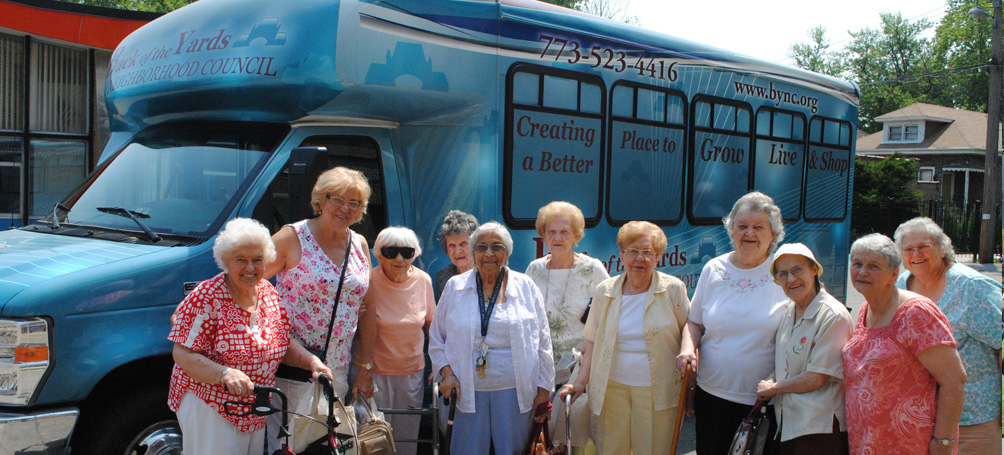 The BYNC provides free support services to seniors in the Back of the Yards neighborhood. These services include the senior computer lab, senior club, the shuttle bus, and small accessible home repairs.
Every Wednesday from 9 to 11 a.m., the BYNC computer lab is open to neighborhood seniors, providing them with an opportunity to learn basic computer skills.  For more information, please contact Norma Manzo at (872) 281-7832 or nmanzo@bync.org.
The BYNC hosts a Senior Club meetings on the second Tuesday of each month. A catered lunch is provided while the seniors play Bingo.  Occasionally, the BYNC hosts senior day trips. For more information, please contact Jim Gonska at (872) 281-7832 or jsgonska@bync.org.
The BYNC through SSA 10 and SSA 39 supports local shopping in the area by providing transportation to our neighborhood senior citizens. We operate a free small shuttle bus service that provides door-to-door, convenient, safe, and free transportation for the senior citizens in our area; allowing them to remain independent and self-sufficient.
To reserve the bus, call our office the day before, anytime between 9:00 a.m. and 12:30 p.m. at (872) 281-7832. The bus driver will call you to confirm your pick-up time for the next day.
Small Accessible Repairs (SARFS)
The Small Accessible Repairs for Seniors (SARFS) program provides safety, security and accessibility improvements that help senior citizens to remain in their homes. BYNC is a delegate agency, under contract to the City of Chicago's Department of Planning and Development. We are available to assist seniors with the SARFS application process, make on-site assessments to determine service needs, and provide limited home improvements at no cost to the applicant.
Repair types are limited to minor repairs that may include, but are not limited to:
Grab Bars
Level Faucets
Door Repairs and Replacements
Floor Tile in Kitchen and Bathroom
Carbon Monoxide Detectors
Smoke Detectors
Wheelchair Ramps